Meyer Engineers, Ltd.
> News
News
November 2015 | Northeast Louisiana Veterans Cemetery Opens In Time for Veterans Day
Originally slated for an early 2016 opening, construction on the NELA Veterans Cemetery finished ahead of schedule, allowing the cemetery to be open for Veterans Day 2015. A ribbon cutting ceremony was held to commemorate the opening. For more info and pictures of the event,click here. Designed by Meyer Engineers, Ltd, the cemetery will span nearly 50 acres of beautiful countryside and will one day be a final resting place for more than 30,000 veterans and their loved ones. A World War II veteran will be the first to be laid to rest at the new facility.
---
September 2015 | Val Riess Park Multi-Use Path wins Tom Petri Annual Achievement Award
The Val Riess Multi-Use Path has been selected to receive the Tom Petri Annual Achievement Award in the category of Community Linkage. Meyer Engineers, Ltd., was able to design the 0.9 mile path under a strict timeline in order to maximize the amount of funding available from local, state, and federal agencies. Read more about the award here.
---
July 2015 | Ground broken for St. John Recreational Improvements Project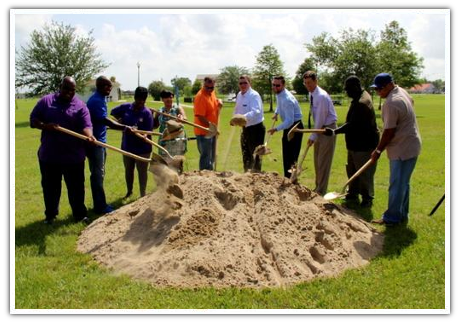 Spanning 12 sites and more than $2,000,000 worth of improvements, construction of the St. John Recreational Improvements Project is underway. The project brings improvements to each park, and includes new playsets, gazebos, splash parks, paving, fitness stations, and more. Read more about the groundbreaking ceremony and project in this news article.
---
June 2015 | Woodmere Community Center Officialy Opens
The Woodmere Community Center has officially opened its doors to the residents of Jefferson Parish. First envisioned in 2008, the project was awarded to Meyer Engineers, Ltd., and construction began in late 2013. Built to host a wide variety of functions, the $1,250,000 center represents the combined efforts of the state and parish governments to bring a modern community space to the subdivision of Woodmere. Read more about the center in this news article.
---
January 2015 | Meyer Awarded NOSWB Capital Improvement Program Contract
The New Orleans Sewerage & Water Board has awarded Meyer Engineers a Construction Management/Staff Augmentation contract as part of its Capital Improvements Program. The S&WB is embarking on one of the largest capital improvement programs in decades with over $300 million planned in upgrades to sewerage, water and drainage infrastructure throughout the city. Meyer will be handling construction management on projects for the new power plant, wetland assimilation projects, and sewer rehab and pump station projects for the S&WB. The contract will include construction management and inspection and the development of a standardized reporting software package.